SOUTHWEST GREENS - PRO SYSTEM
We judge the quality of our installations in the only tangible way: by analysing how the golf ball reacts to the putting surface in every instance.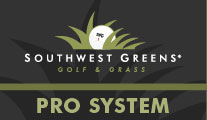 For example, we analyse whether the ball is achieving a true roll on putts, with no bouncing or deviation from its line, or how the putting surface reacts to a ball being chipped from 5 yards, or pitched from 70 yards or receiving a full shot from 200 yards.

We take pride in the fact that our putting surfaces accept all these shots, with the same spin, roll, and break that would be expected from a tournament green at a championship golf course.

THE SOUTHWEST GREENS PRO SYSTEM

Unique to Southwest Greens is the Pro System. Extensively researched the Pro System technology enables the product to truly replicate the response of a natural green.

The secret to our success is not only the shaping design, but the eight layered construction; incorporating various layers of multiple sized crushed stone, shock underlay padding, our trademark turf and finally the all important layer of silica sand infill.

SOUTHWEST GREENS TURF

Exclusive to Southwest greens, our turf is manufactured to the highest standard by the world leading suppliers based in the USA.

The fibres and components are engineered with advanced application knowledge to meet the demanding performance, look, durability and environmental consciousness, making this, the industry's finest artificial grass.

WATCH THE SOUTHWEST GREENS PRO SYSTEM IN ACTION...