ABOUT SOUTHWEST GREENS
Southwest Greens International was founded in America in 1996 and is a subsidiary of Shaw Industries (Berkshire Hathaway Inc.) Considered to be the global leader in designing and installing state-of-the-art synthetic turf and lawns for residential and commercial use. Southwest Greens has a multi-million pound international network which incorporates teams of highly trained and authorised distributors in Asia, Europe and here in the UK.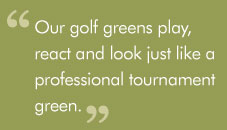 Although a global company, Southwest Greens uses it's own individuals skills and local knowledge. Southwest Greens UK covers Scotland, England, Wales and Ireland.

Visit the other Southwest Greens
websites around the world...

Warren Bailey, Managing Director of the UK, acquired the company in 2007. From the early days Warren promised not just to install the best synthetic turf system, but to keep pushing the boundaries on the design, shaping and architectural performance matching the finest USGA golf greens in the world. Warren understands as a keen amateur golfer how important it is that a green is capable of so many elements not just to look stunning and blend in with your existing landscaping and perform as a natural golf green but to incorporate breaks and borrows to enhance your practice routine.

Southwest Greens UK can boast the successful construction, design and installation of numerous residential greens from 20sqm to 550sqm, target greens, tee-lines, indoor putting plus several commercial synthetic golf practice facilities including the LARGEST synthetic green in the UK.

Warren's vision for Southwest Greens has paid off, whilst the recent recession has claimed several businesses including a competitor; Warren believes it is his dedication to focus on providing a top quality BESPOKE service with the ability to be highly competitive. "We are truly unique, not just because we manufacture our own synthetic turf, but as Managing Director I oversee every project personally, providing a point of contact for the customer, which has proven a winning formula in the construction of some of the most breath-taking and innovative synthetic greens the UK has ever seen."

Whether you are planning to install the Pro System or an artificial grass lawn, Southwest Greens offers several solutions of synthetic grasses to meet the most demanding residential and commercial landscape needs. These include synthetic solutions for artificial lawns, all golf applications including indoor and outdoor, target greens, tee-lines, adventure putting and golf courses as well as synthetic playgrounds, athletic and multi-purpose sports fields. Southwest Greens synthetic turf is designed to be extremely durable while simulating the look and feel of natural grass.

Don't just take our word for it, visit our testimonials page and let our customers tell you why they chose Southwest Greens.

TURF

Within SWG we manufacture our own turf to the highest standards, using the worlds finest raw materials. The fibres and components are engineered with advanced application knowledge to meet the demanding performance, look, durability and environmental consciousness, making this, the industry's finest artificial grass. Learn more about our TURF...

DESIGN

No green is the same, we carefully consider our customers individual requirements: Space, functionality, performance and desired shaping. Every step is carefully planned with on site visits and CAD Designs, enabling the customer to realise their vision. Take your game to a new level with Southwest Greens.